Infrared Sauna

Sweating is the body's natural way to heal and stay healthy. Infrared sauna therapy is beneficial for natural
healing and prevention because of its ability to penetrate human tissue resulting in a deep, detoxifying
sweat. It is known to assist with detoxification, immunity, weight loss, heart health, muscle recovery,
weight management and relaxation. Many sauna users experience relief from conditions such as
fibromyalgia, arthritis, and neck and back pain because it warms and relaxes joints and muscle tissue.
Infrared heat is completely safe and healthy for all living things. It is the same heat used in hospitals to
warm premature babies. SoloCarbon® heating technology, found exclusively in our Amplify sauna from
Sunlighten, is the most proven, effective far infrared heater on the market. Combined with the full
spectrum heaters included in the Amplify, this sauna session gives you the benefits of all three infrared
wavelengths: near, mid and far.
SAUNA PROTOCOL
Follow this quick guide for the optimal sauna experience.

PRE SAUNA SESSION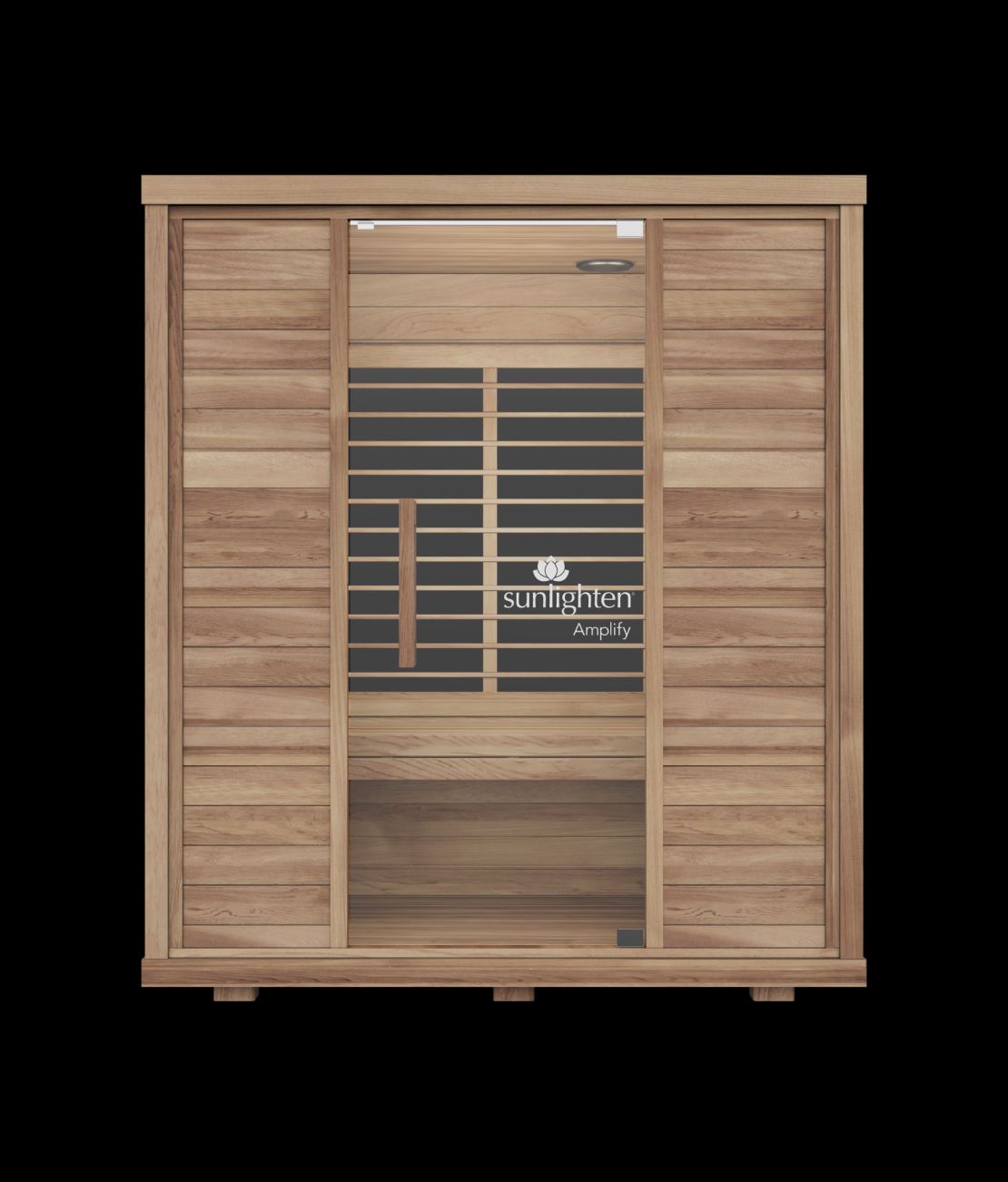 • Hydrate with at least 8 oz (.24 L) of water to prepare your body for an increase in core temperature.
• Use towels to absorb sweat during sessions.

SAUNA SESSIONS

• Begin your session when your sauna reaches 100.4°F (38°C).
• The optimal sauna experience occurs between 100.4°F (38°C) and 129°F (54°C).
• To get your body accustomed to infrared therapy, start with 10-15 minute sessions at
100.4°F (38°C) every other day.
• Gradually increase towards 40-minute daily sessions in the optimal temperature range.*
• Don't be surprised if you don't sweat during the first few sessions.
• Sweating will increase with regular use, removing toxins and leaving you feeling
refreshed and rejuvenated.
Post Sauna

• Drink at least 24 oz (.7 L) of water or electrolyte to rehydrate.
• Dry off with a towel. Cool down naturally or with a refreshing shower.

*Listen to your body. Be aware of excessive detoxifying. If you begin to feel symptoms
such as nausea, fatigue, or flu-like symptoms during your sauna session, discontinue use
immediately. If these symptoms continue, consult your physician.
Sauna Packages
Sauna Packages are now available for purchase in office!
Sauna Starter - Two 15 minute sessions and two 30 minute sessions. $50 ($40 savings)
The Sauna Starter package is to get your body acclimated to the infrared heat. You want to work your way up to 45 minutes. This package should really be completed within 2 weeks if possible.
Five 45 minute sessions $110 ($115 savings)
To really see and feel the benefits it is recommended to use an infrared sauna multiple times a week.
All packages expire within 30 days of purchase